Oklahoma City, Oklahoma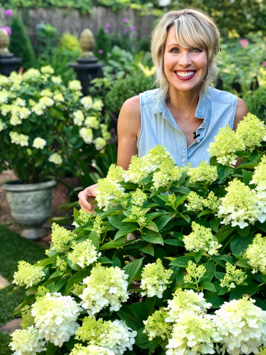 Linda Vater of Oklahoma City is a self-taught garden designer and nationally-known garden writer and producer of garden media for TV, magazines, Instagram, YouTube and her VOD channel, LVTV. Her design focus is on small, efficient, residential gardens with a relaxed Southern charm, where a garden-inspired lifestyle can be embraced.
For 30 years, Linda has built her gardening world around a 1935 English Tudor in historic Oklahoma City. There, she's honed gardening techniques and refined personal manias for gravel paths and patios, tulips, boxwood topiary, and a potager garden of decorative herbs and vegetables.
Since 2005, Linda's weekly TV gardening segments for Oklahoma City's KFOR-TV, an NBC news affiliate, have showcased an appealing mix of practicality and panache. Since 2007, Southern Living has featured her garden five times, while Garden Gate made it a cover story and Victoria magazine's first trip to Oklahoma featured her historic home and gardens.
In recent years, Linda's YouTube garden videos have expanded her following. Her virtual forays explore the daily life of this garden and gardener, with thoughtful asides on garden-inspired living. The segments are shared via Instagram and IGTV, where viewers join in on Linda's leisurely garden walk-and-talks, delivered with coffee in hand and casual commentary. In July 2020, she launched LindaVaterTV, a subscription-based video-on-demand channel dedicated to garden-inspired living as it plays out in the home, outdoor spaces, self-care, personal style, and daily life.